Is It Wrong to Pay For A Book Review?
by Lynn Osterkamp
Some say that authors who pay for reviews not only lack integrity, they are wasting their money because a paid review is worse than no review. Purists even go so far as to say that if you get a review from a site that accepts payment for an expedited review, your review is tainted even if you haven't paid anything for it. They add that for authors whose books are self-published, getting a paid review is especially tacky. It's bad enough that we're paying to have our books published; now we're compounding the offense by paying for a review.
The belief that underlies this thinking is that having money involved corrupts reviews—even unpaid reviews from sites that accept payment. After all, why would anyone pay for a negative review? But what they overlook is that the payment is made before the review is written. If the review is negative, the author doesn't have to use it, but the fee will not be returned.
It's been my experience that online review sites that charge fees for some or all of the reviews they write can and often do provide useful and honest reviews. For example, one of the online review sites that reviewed my first two novels (at no charge) is BookPleasures.com. This review site is included in Midwest Book Review's list of the best of online review organizations and publications. Norm Goldman, the editor and publisher of BookPleasures.com accepts email queries from authors who want their books reviewed. If he accepts a book for review, he makes it available to his 40+ international reviewers, most of whom are writers and/or editors.
Although I got free reviews of my first two novels from BookPleasures, their website says that demand for reviews is so high now that it can now take three to four months to get a review. So they offer a priority, fast track quick review service for authors who are in a hurry to have their books reviewed. Authors who pay $119 are guaranteed to get a review within fifteen business days of the date their book is received. And their review will be listed on a bunch of online magazines, websites, and some social networking sites, and cross-linked to an e-interview with the author.
The site specifically states that they will provide an honest review and that there is no guarantee that the review will be positive. How true is this statement? I randomly read some reviews from the general fiction category on the BookPleasures site. While I can't tell which ones were paid, I definitely did not find the reviews to be universally positive. While reviewers found much to like about the books and talked about aspects of plot and character they found satisfying, they also made numerous critical comments.
Given the difficulty of getting books reviewed these days, I think sites like this are not only acceptable, they fill an important niche for both writers and readers.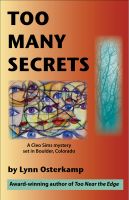 Buy Now @ Amazon & Smashwords
Genre - Mystery
Rating – PG
More details about the author & the book
Connect with Lynn Osterkamp on Twitter